外企人员英文辞职信
  辞职的原因有很多种,有想跳槽寻找更广阔空间的,也有想好好放松自己享受生活的.,更有因为有急事离岗不得不辞职离开的。而往往在这个时候,一篇辞职报告是否合理合格决定了以为员工是否能成功的办理离职手续,一篇优秀的辞职报告也是我们工作结束的圆满终点。辞职报告网为不同岗位的工作人员提供各种各样的辞职报告样本,仅供参考。小编希望能够帮到您!更多辞职报告范本请上/cizhibaogao 查询。(本文为你提供辞职报告范本两篇。)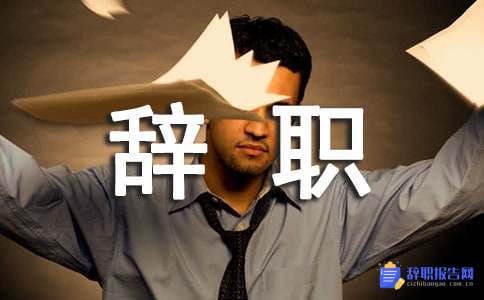 篇一:
  To -----
  After I thought, I decided to resign my current position as our company. In submitting this resignation, my mood is heavy. Now, because of I mental state, and other personal reason for this I cant make a corresponding contribution to the company. Therefore, request permission to leave.
  First of all, thank you for giving me the chance became one of ******* Electronics Co., Ltd. During this time, can see our factory with six persons team from the development to its current size, I feel much honored. And we all paid a lot of hardships. There was laughter, there have been gains and tears and pain, the company equal relationships and open-minded style of work once I feel at home here, I am happy working, happy life, However, due to I lack of experience, the recent work I would often feel powerless. Work yourself immature sense of total loss. As a result, I began seriously thinking about, I found that because of various reasons, in fact, I do not fit this job, maybe I was too immature, too idealistic, too simple, I am confused and confusing, anything I work very seriously, because I do not want to muddle along, this will only make me feel uneasy, and I timid, things indecisive, indecision, lack of courage, not decisive, and this is the main reason why to lose confidence for my job. Perhaps the most important thing is thinking about what is my biggest interest, what I want, for what to do, find my own position is the next step in my life choice.
  I know that the company employing the occasion comes, but I resign at this time. I really feel very ashamed cannot work together and contribute to the company. I hope that company leaders took time in your busy schedule accepted my resignation matter. I consider the resignation submitted in 1-2 months after leaving the company, so you will have time to find suitable candidates to fill the vacancy caused my departure. If you think I left in a more suitable period of time, may wish to give me advice or tell me as soon as possible.
  Thank you for giving me the trust and support during this time, and wish all my colleagues and friends in the work to achieve greater results.
  Made of : *********
  DATE: November.07, 20xx
  篇二:
  Dear
  I am offering my resignation as operations manager of the XXX plant, effective May 15. As of now, Im not quite sure where Ill be looking for employment and am toying with the idea of turning one of my life-long hobbies into a profit-making enterprise.
  Frankly, Vernon, I was deeply disappointed the vacancy of general manager was filled by someone from outside the company. Through years of excellent performance appraisals, I was led to believe I was in line for that position. Under the circumstances, I think youll understand my decision to resign.
  I do appreciate the management training Ive been given here; it has indeed prepared me well for almost any general business career I decide to pursue. My best wishes for the companys continued growth.
  Sincerely,
  欢迎登陆辞职报告范文网查看更多
【外企人员英文辞职信】相关文章:
4.外企的英文辞职信
5.外企英文辞职信